Travelling  in Thailand is much more convenient now than it was 10 years ago.  We can fly to Chiang Mai and Phuket just one hour, not having to take the night train or bus to go there like before.
In Bangkok you can go by BTS (The Bangkok Mass Transit System) and MRT (The Bangkok Metro System), taxi, and the "Tuk Tuk" or "Sam Lor" auto rickshaws that are one of the highlights of Bangkok
Today I would like to tell you about another way to explore Bangkok with locals. It is the way that Thai people travelled before we had roads and cars, and it was a much more convenient and faster system for us to use. And that is by boat of course!
Thailand has one major river which flows through the country from the north of  Thailand then flow into The Gulf Of Thailand which is called " Chao Phaya River".
Though I personally don't usually have much opportunity to use the public boat, it is the ideal way to visit the Grand Palace from Nonthaburi, North Bangkok.
Unlike buses who are easily distinguished by numbers, boats have different coloured flags to help identify them. There are orange, green and yellow. The green and yellow will run only in the morning from  6:15 AM to 08:20 PM and in the evening from 16:00 PM to 18:00 and 20:00 PM only.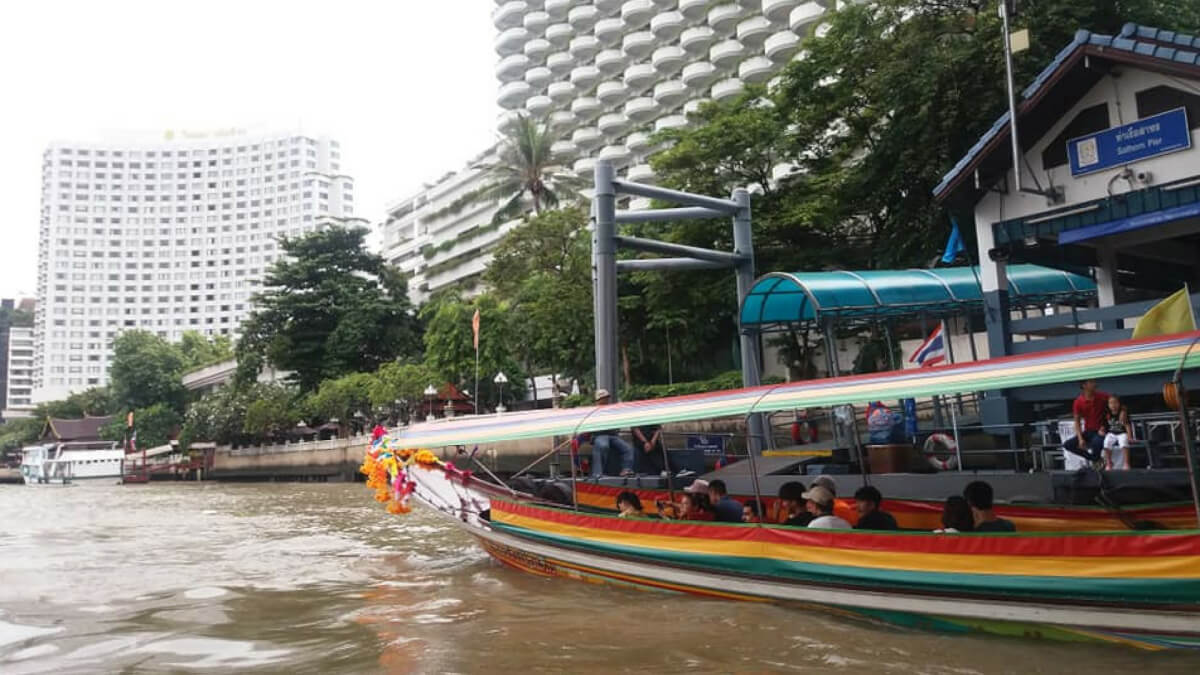 When you are in there, there will be " the boat ticket collector" who will come to collect money from you and give you the ticket which look similar to bus tickets.
People, especially the tourists, really enjoy it when the water splashes into the boat. At that moment you will see the people who sit on that side of the boat use their umbrellas to protect them from the water which I think it was very funny to watch. This is something that bus commuters have to miss out on!
Sometimes you can also see small ships towing barges with rice and other products along the river. You might also see the children jumping, swimming and playing in the river! There are a million ways to explore Bangkok and I think this will be another for you the explore and enjoy like a local. I'd think this is probably my favourite way though!
At GROUND we like to immerse our groups into as many local experiences as possible. Travelling with local people on public transport is one way that we like to encourage groups to further enrich their cultural experience. Find out more about the bespoke trips we can create for you here.
Explore more Educational Travels in Thailand