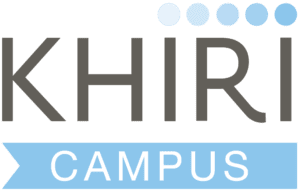 Vietnamese Signature Drink: Coffee | Khiri Campus
Author : Khiri Campus | Tags : Travel Tips, About Khiri Campus
When someone mentions coffee, you will probably think of Brazil, Colombia or Ethiopia.
But when in Vietnam, it is a must to taste the coffee of the second largest coffee exporter in the world.
Coffee might have been introduced to Vietnam in mid-19 th century by French people but a morning cup of "ca phe" soon became a local habit.
It is said that the best places to enjoy local food in this country are small restaurants tucked away
in small alleys and Vietnamese people also have a variety of choices when choosing where to drink coffee.
Accessed via an entrance in a back of a shop, a spiral staircase leads up to Hanoi's one of the most stunning coffee shop views.
From the quiet balcony overlooking the lake and surrounding streets, you can enjoy a coffee while watching the seemingly never-ending stream of traffic pass by. Some of our favourite cafes with a view are:
 I feel cafe & lounge(no 19 Dinh Tien Hoang street, Hoan Kiem, Hanoi)
 Hanoi Time Coffee(no 39 Dinh Tien Hoang street, Hoan Kiem, Hanoi)
 Avalon Cafe and Lounge(no 73 Cau Go street, Hoan Kiem, Hanoi)
For the best price yet quality guaranteed:
Though coffee shops are popular in Vietnam, locals often buy coffee from street vendors. Only with a bicycle, a speaker and a box full of tools and ingredients, the sellers go around the crowded area of the city and serve hundreds of customers a day.
For the old Vietnam vibe:
Take a trip back to Vietnam in the old days just by opening a wooden door of a vintage coffee shop and immerse yourself into the simple yet perfect traditional interior decoration. These coffee shops are often designed with brick walls, wooden furnishing, propaganda poster and old bookshelves.
Check out Cong Caphe(no 116 Cau Go str, Hoan Kiem, Hanoi)
For the Hanoi specialty
Egg coffee is not literally raw egg put in a cup of dark and bitter coffee. It is a perfect combination of Vietnamese coffee together with egg yolk whipped with condensed milk into an airy froth.The inventor of this Hanoi specialty is Nguyen Van Giang, who worked as a bartender at the Sofitel Legend Metropole Hotel in 1946. At the time, there was a shortage of fresh milk in the country so whisked egg yolk was used as a substitute.
"All the foreigners and the Vietnamese in the hotel liked it" ; says his son. "So he decided to leave the hotel to start selling egg coffee and create his own brand."
Grab a cup of egg coffee when wandering around Hanoi old quarter! Our top places to
try are Giang cafe (no.39 Nguyen Huu Huan str, Hoan Kiem, Hanoi) and Cafe Dinh
(no.13 Dinh Tien Hoan str, Hoan Kiem, Hanoi)